What does Stroke Solutions do?
      1. Stroke Solutions introduces some helpful, low-cost products to significantly aid with stroke recovery.
The latest neurorehabilitation evidence-base emphasises the importance of practice (to stimulate neuroplasticity). All products you see here emphasise that only your involvement in the movement will lead to improvement.
The ARNI Approach was initiated by a stroke survivor (Dr Tom Balchin) in 2001 to support the importance of stroke survivors performing task-training, strength training and developing physical coping strategies. This user-driven combination of interventions continues to be extremely successful worldwide, and is detailed comprehensively for you here.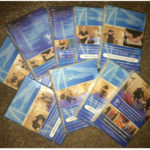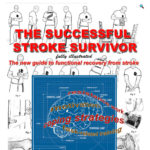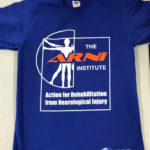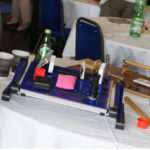 It is detailed for you in the Successful Stroke Survivor DVDs / online streaming videos (save a full £40 on the full set) and the best-selling Successful Stroke Survivor comprehensive strategies manual.
A few very useful accompanying low-cost products for stroke rehab which link with the practice/retraining shown in the DVDs and manual.
We hope you find that combinations of these elements extremely useful for self-rehabilitation. Many thousands have, unsurprisingly, and have been able to rebuild their lives again, however old they are or however significant a neurological injury they have suffered. The ARNI Action for Rehabilitation from Neurological Injury Charity has been dedicated to this since inception.
Please phone in to Stroke Solutions if you would like any rehabilitation aid/product but cannot use the website to pay.
Stroke survivors and families also appreciate support with the implementation of recovery programmes. To tackles this need:
      2. Stroke Solutions is also the UK's Accredited referral and monitoring agency for stroke survivors and families wanting to engage a professional ARNI qualified physiotherapist or specialist neuro-exercise trainer (in person at home) or specialist speech and language therapist (via remote means). 
These professionals can very significantly help people with stroke around the UK in their homes for between £45 and £60.
Many hundreds of professional instructors and therapists have qualified through the ARNI (Action for Rehabilitation from Neurological Injury) Institute UK since 2007 but ONLY those who are invited to join as specialist Associate Instructors may then be available to you via Stroke Solutions. Many have 1st, 2nd or 3rd degrees in relevant areas of healthcare and are highly experienced.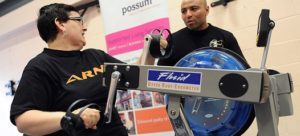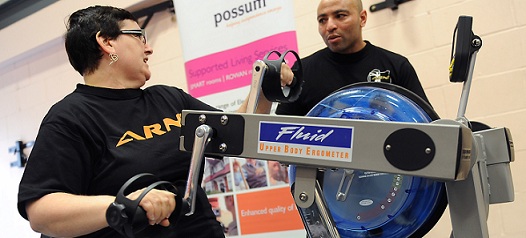 ARNI Associate Instructors have to sign up to a legal contract between themselves and Stroke Solutions which is designed to regulate practice. For example, Associates must fully qualify through the ARNI FRETS qualification taught by Dr Balchin, be fully insured, DBS checked and ready to maintain their annual CPD points by attending stroke rehabilitation professional development symposia, for example at ARNI Institute, Institute of Neurology at  University College London and the Royal Society of Medicine.
You can easily check the veracity of an Instructor or SLT by phoning us and quoting the unique number shown on his/her Associate card. More about this element of Stroke Solutions below.
Stroke Solutions referral and monitoring agency
Is a professional agency linked to the ARNI Institute which safeguards the rehabilitation process.
Facilitates specialist rehabilitation and exercise with a fully qualified and insured ARNI Associate Instructor or SLT.
Monitors best practice of ARNI Associate Instructors and SLTs.
Safely and securely collects, processes all applicable fees and pays your Instructor or SLT for you: a big advantage for families and patients.
Creates regular opportunities for your instructor or SLT's continued learning of the neurorehabilitation evidence base and rehabilitation techniques.
Monitors your progress using information via regular calls from us and information collated from your Instructor or SLT.
Gives you a friendly point of contact, always a kind and willing ear, to whom you can speak with about your rehabilitation progress.
Supports your Instructor or SLT to optimally help you.
Emails and texts you session reminders.
Will do its best to arrange cover if your Instructor or SLT cannot make it for a planned session.
Invites you to join in to tele-sessions.
Gives you the reassurance that you can expect a quality controlled, fully monitored service from your professional – about which you can ask questions at any time.
What will you find in your login section upon signing up with Stroke Solutions
You can find out the options for rehabilitation training sessions from the Stroke Solutions UK Referrals Manager (Jane)
You will be given a secure login area on our website where you can read the details of the Instructor or SLT with whom you've been matched with in your area.
You can read about your Instructor or SLT's qualifications, experience, insurance, as well as up to date DBS and CPD details
You can set training dates in collaboration with your Instructor or SLT and you will then be able to see them via your online calendar and get email and text reminders about them.
You can add notes of reference for our UK Referrals Manager and you will be called regularly by her.
You have access to an area of the Shop which gives you discounts from products (books, videos, apparel etc) to consider, which are not available to general public.
You get regular information and invitations by email and text from Stroke Solutions about conferences, meetings and free master-classes with Dr Balchin and trainers.
You can pay online for 1, 2, 3, 5 or 10 sessions. Discounts given when purchasing 5 (£10 off) or 10 sessions (£20 off).
If you are unable to use the computer yourself, this process will all be taken care of by the UK Referrals Manager – just call Stroke Solutions.