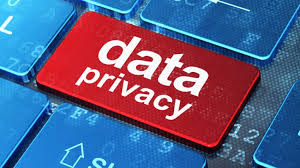 Just to let you know that we have your data safe.
Your privacy is important to Stroke Solutions and we take our responsibility regarding the security of any personal information you send us very seriously.
To reflect the newest changes in data protection law – the General Data Protection Regulations (GDPR), and our commitment to transparency, we have updated our Privacy Policy.
STROKE SOLUTIONS
Your personal data – what is it?
Personal data relates to a living individual who can be identified from that data. Identification can be by the information alone or in conjunction with any other information in the data controller's possession or likely to come into such possession. The General Data Protection Regulation (GDPR) governs the processing of personal data.
Who are we?
Stroke Solutions is the data controller (contact details below). This means it decides how your personal data is processed and for what purposes.
How do we process your personal data?
Stroke Solutions complies with its obligations under the GDPR by keeping your personal data up to date; by storing and destroying it securely; by not collecting or retaining excessive amounts of data; by protecting personal data from loss, misuse, unauthorised access and disclosure and by ensuring that appropriate technical measures are in place to protect personal data. We use your personal data to enable us to administer records.
Sharing your personal data
Your personal data is treated as strictly confidential. We do not share your data with third parties.
How long do we keep your personal data?
We keep data in accordance with the guidance set out in the Data Protection Act and under the requirements of General Data Protection. When we no longer require your personal information, or you ask for it to be done, it will be erased from our systems.
Your rights and your personal data
Unless subject to an exemption under the GDPR, you have the following rights with respect to your personal data:
The right to request a copy of your personal data which Stroke Solutions holds about you;
The right to request that Stroke Solutions corrects any personal data if it is found to be inaccurate or out of date;
The right to request your personal data is erased where it is no longer necessary for Stroke Solutions to retain such data;
The right to withdraw your consent to the processing at any time;
The right to request that Stroke Solutions provides you with your personal data;
The right, where there is a dispute in relation to the accuracy or processing of your personal data, to request a restriction is placed on further processing;
The right to object to the processing of personal data;
The right to lodge a complaint with the Information Commissioners Office.
Compliant with Data Protection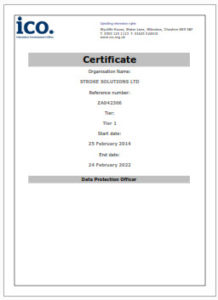 Registration Certificate STROKE SOLUTIONS
Since 2014 Stroke Solutions has been registered with the Information Commissioner's Office. This registration is updated yearly and is up to date.
Stroke Solutions' Data Protection Registration No. is ZA0423062.
For our detail, please see: https://ico.org.uk/ESDWebPages/Entry/ZA042306
Contact Details
To exercise all relevant rights, queries of complaints please in the first instance contact the Programme Director of Stroke Solutions on 0203 667 6177 or via email at support@strokesolutions.co.uk or write to us at Stroke Solutions, PO Box 68, Lingfield, Surrey, RH7 6QQ.
You can contact the Information Commissioners Office on 0303 123 1113 or via email https://ico.org.uk/global/contact-us/email/ or at the Information Commissioner's Office, Wycliffe House, Water Lane, Wilmslow, Cheshire. SK9 5AF.